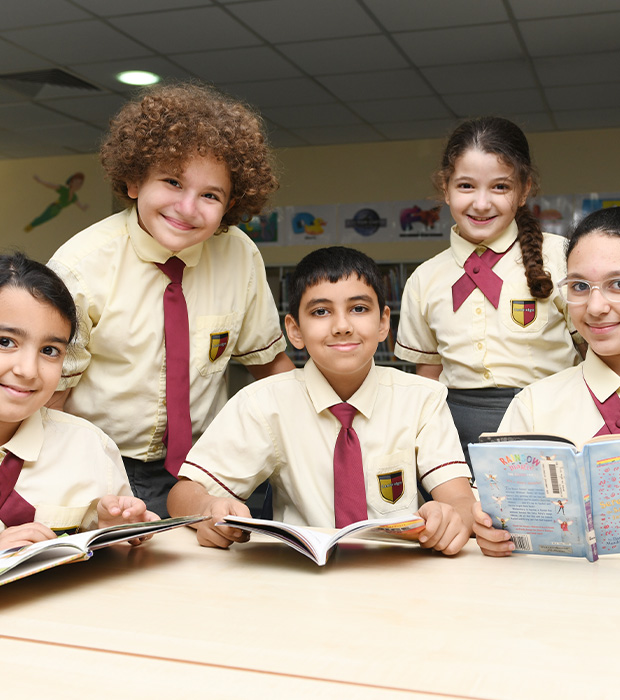 Outstanding Board Examination Results
Board Examination Results 2021-2022
Our students achieved a remarkable high performance in the January examination series as our Year 11, 12 and 13 students received their International GCSE and A level results last Thursday. 269 students received either final grades or modular results across the subjects of Arabic, English, biology, chemistry, physics, geography, mathematics, and statistics.
There was outstanding performance in all of the subject areas with particular highlights in Year 11 IGCSE mathematics where 145 students sat the examinations resulting in 87% of the cohort gaining a 9-4 grade, 77% achieving grades 9-5, 63% of students achieving grades 9-7, 35% grades 9-8, and a 18% achieving the top grade 9. More impressively 90% of the students made better than expected progress with 47% surpassing this by more than one grade.
The Year 13 psychology results were stunning with a 100% pass rate, 75% of grades being A-B, and 50% of the students achieving a grade A. There were a number of individual successes for students with Farah Hammad, Selwyn Dias, Micia Gallagher, Yousef Abouelamim, Brianna Binoy, Eman Sajed, Farah Sary, Sonia Azher, Sayyeda Salman, Sakshi Sardana, Lady Nicole Payan, Rana Saha, Zaid Maroof, Aadharsh Ram Saravanne, Sanjit Lakshmi , Shubbish Niranjan Ramesh, Aaryan Patil, Muhammad Aqeel Abdulla and Adrien Das Gupta all achieving full marks in one of their examinations.
These are truly amazing results at our all-inclusive non-selective school. We are a High Performance Learning School and believe in high performance for all and these results are testament to the high quality of teaching that takes place both face to face and virtually at the GEMS Cambridge International School. I am so proud of our learners and what they have achieved during a global pandemic.