Tuition Fees
View Fees For: Pre School | FS 2 | Year 1 | Year 2 | Year 3 | Year 4 | Year 5 | Year 6 | Year 7 | Year 8 | Year 9 | Year 10 | Year 11 | Year 12 | Year 13
Fees and Payments
We endeavour to make our payment process as easy as possible with a range of simple and straightforward payment options, as well as a clear, concise fee structure. You'll find everything you need to know about our fees and payment process here. Of course, if you have any queries, please do not hesitate to contact us:
Telephone: +971-2510-4343
Email: [email protected]
Payment Policies
The tuition fees are due prior to the start of the academic year and payable in advance of attendance, at the start of each term. Tuition fees will be invoiced from the time of admission to ensure that payments can be processed before the start of the term. If your circumstances change, it is essential that you contact us in advance of the deadline so that we can guide you on available options. Please note, all tuition fees are in accordance with the fee structure established by GEMS Education under the guidance of ADEK established School Fee Framework.
Save With GEMS Rewards

GEMS Cambridge International School – Abu Dhabi is committed to maintaining the quality of teaching and the extra-curricular experiences that our students enjoy, whilst continuing to offer exceptional value-for-money. We have celebrated yet another year of excellent exam results, reinforcing the school's formidable academic accomplishments, and persist in our efforts to manage our cost-base without compromising the school's superiority in education.
Fees and Payments
Tuition fees are payable in advance of attendance and are assessed in accordance with the fee structure established by GEMS and approved by the Abu Dhabi Education Council.

School Tuition Fees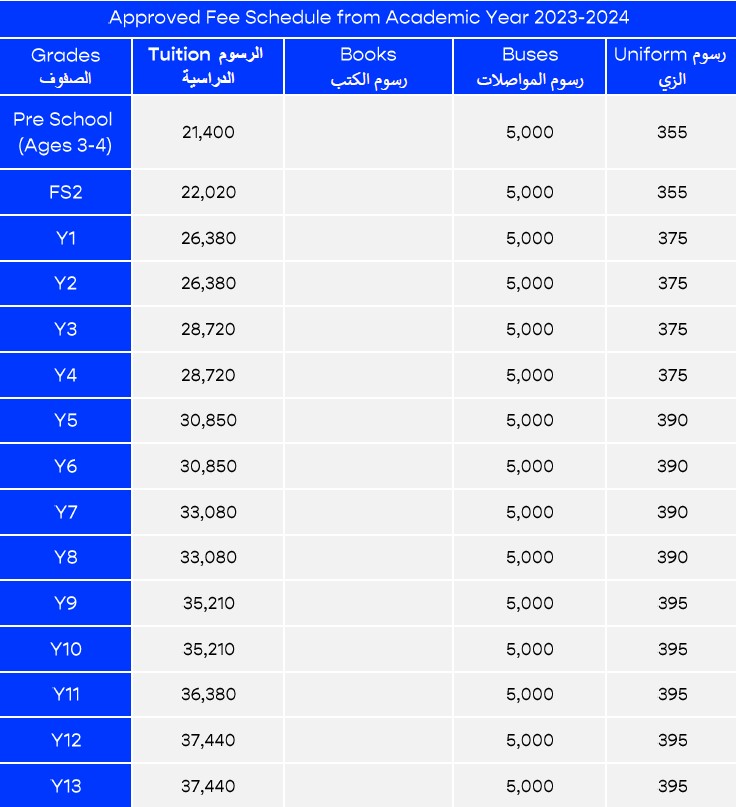 Fee for New Admissions
For new admissions, a fee equivalent to 5% of the Annual tuition fees will be due upon acceptance of the Offer Letter and confirmation of enrolment in the applicable academic year.
This fee is non-refundable/non-transferable but adjustable against the first term tuition fee once the student joins the school. This fee is refundable if the parent gives notice of withdrawal before the beginning of the academic year, as per ADEK policy.
Re-Enrollments
In order to secure the seat for the next academic year, parents will be asked to pay a re-enrollment fee (5% of next academic year fees)which is non-refundable, but adjustable against the first term fees. Please note, students who are unable to be registered with the Abu Dhabi Education Council due to missing required documentation, or students with an outstanding fee balance, will not be able to be re-enroll for the next academic year.
Payment Policies
Payment of Fees
Tuition fee invoices are sent to the fee sponsor on record, two months prior to the start of the academic year. Tuition payments can be paid in full, or are due on or before the 10th working day of August for Term 1, December for Term 2, and April for Term 3.
Non-payment of Fees
Students may not be permitted to appear for the school examination if their fees are not paid. Failure to pay tuition fees may result in:
Loss of the student's place in the school
Withholding of their school reports, references, and/or examination results
Temporary or permanent expulsion or exclusion from school
Refund Policy
The registration fee remains non-refundable, while paid tuition fee refunds follow the Ministry of Education's policy. Tuition will be refunded only after the parent or guardian has submitted the request in writing to the school admissions office. Tuition refunds are provided to the original payee.
Student Withdrawals
All students withdrawing from the school must submit notification of their withdrawal in writing to the Registrar office. A thirty (30) day notification period is required to ensure all necessary documents are ready.