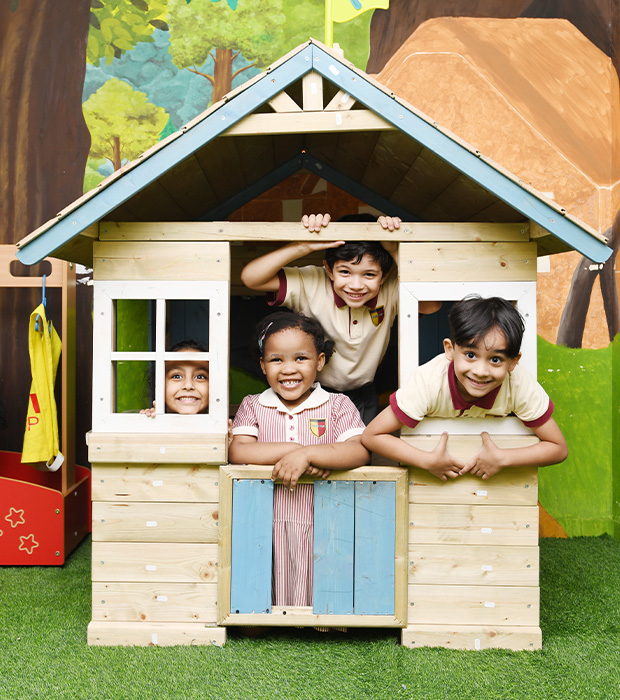 Early Years
Foundation Stage and Key Stage 1 (FS2 to Year 2)
Continuing their Lower School journey, our Learners progress into Key Stage 1 where they follow the National Curriculum for England and continue to build on the foundations that are established in Foundation Stage. Through a rich, diverse and exciting curriculum offer, our students develop into well rounded, confident learners pursuing 'excellence' in all that they do.
Core Academic Curriculum
Includes instruction in:
Arabic

Islamic Studies (for Muslim students)

Social Studies

English – which consists of Read, Write, Inc and Talk for Writing

Mathematics

Science

Information and Communications Technology
Supplementary Subjects
The overall education experience is enhanced and supplemented with instructions in:
Humanities

Art

Moral Education (Year 2)

Music

Physical Education

Personal, Social and Health Education
To ensure learning is meaningful and to increase opportunities for the application of knowledge, skills and understanding in real-life contexts, teachers make links across the curriculum wherever possible. Activities are planned and delivered to maximise first-hand experiences and to respond to children's learning strengths. Our curriculum is lively, creative and engaging and complemented with half termly curriculum dress up days. Visitors to school and external visits to different places of interest enrich the curriculum each term.
Full time teaching assistants in Years 1 and 2 support learning to ensure all children have excellent opportunities to access all aspects of the curriculum and achieve their full potential.
As we embark on our journey to becoming a High Performance Learning school, we ensure that through our Values, Attitudes and Attributes (VAA's) and Advanced Cognitive Performance Characteristics (ACP's) our students develop into well rounded global citizens, who actively seek challenge, take risks and develop themselves as leaders of the future. By the time our learners leave Key Stage 1, all students will have developed social skills and a love for learning, as well as being equipped with the academic skill set to enter Key Stage 2.